Since the Ascot Racecourse was founded in 1711 by Queen Anne and the first race, "Her Majesty's Plate" was run, the annual day of thoroughbred horse racing at the prestigious Berkshire racecourse has been an occasion devoted to dressing up to the maximum. Almost as much as the horse racing itself, Royal Ascot has always been about turning heads through unabashed fashion flamboyance.
Nobody does Ascot-style better than the Royal Family, who are more than used to adhering to the racecourse's strict dress code of dresses and skirts of a modest length of falling just above the knee or under and dresses and tops having straps of one inch or greater.
Today we're going to get inspired by the long-standing fashion sagacity of our Royal Family and take a look at some Royal outfits at Ascot through the ages.
Floral Splendour: Queen Elizabeth II and Princess Margaret 1955
Photo Credit: Press Association
In 1955 Queen Elizabeth II and Princess Margaret wowed the crowds at Royal Ascot by donning pretty floral dresses, accompanied with strappy high heel sandals, long-sleeved gloves, dainty handbags on their arm and pearl necklaces.
So similar were the Royal ladies' outfits that you could be forgiven for thinking the sisters were twins!
The pretty, mid-calf length dresses with a tailored waistline that exemplified the sisters' enviable figures were certainly resonant of the style of fashion during the mid-1950s when poodle skirts, slim sheath dresses, tailored suits, tea length swing dresses with petticoats for fullness and kitten heels, saddle shoes and stiletto heels, dominated in a decade that saw fashion exploding into new directions.
Epitome of Elegance: Princess Diana and Sarah Ferguson 1980s
Photo Credit: Pinterest
Princess Diana was known around the world for being one of the trendiest royals and wearing stylish outfits that would exemplify her petite frame and tasteful sense of fashion.
Royal Ascot provided Princess Diana with the chance to show off her chic wardrobe in front of the world's cameras. This particular occasion in the 1980s saw Princess Diana step out at Royal Ascot in style with Sarah Ferguson. Diana was wearing a stunning lemon and white silk suit with a just above the knee skirt. The suit was designed by Catherine Walker. A rose-adorned hat completed this sassy, romantic look.
The Duchess of York looked effortlessly elegant as well, walking alongside Princess Diana in a tailored cream suit with a large beige hat and beige shoes with kitten heels.
Pretty in Peach: The Queen in 1992
Photo Credit: inyourarea.co.uk
When the Queen showed up at Ascot in 1992 in a matching peach three-piece, she typified the radiant style of Ascot perfectly. The Queen wore a pair of simple pearl earrings, a pearl necklace and a pearl broach to accompany her truly elegant pale peach dress, jacket and hat. The look bordered on a vintage style that was fashionable in the early 1990s.
Radiant in Red: Princess Margaret 1998
Photo Credit: Rex (The Telegraph)
Never one to steer clear of the limelight, 1998's Royal Ascot saw Princess Margaret stride out in a stunning, slimline red suit. The 1990s were all about sporting bright colours in coordination and Princess Margaret pulled the trend off to the max with her red suit decked with decorative black detail around the buttonholes, black patent shoes, a stylish black handheld handbag, black earrings, and, of course, an elegant black hat.
Pretty in Pink: The Queen 1999
Photo Credit: inyourarea.co.uk
In 1999, the Queen looked pretty in pink wearing an intricately-patterned floral pink suit decorated in a colourful array of white, orange and yellow flower prints with green stems. In her typical Ascot style, the Queen adorned the pink suit with a beautiful dazzling broach, a pearl necklace, pearl earrings and a stunning pink hat with floral detail to match her suit.
Magnificent in Monochrome: Princess Michael of Kent in 2012
Photo Credit: Image Source: https://www.telegraph.co.uk/comment/letters/9354871/The-technique-of-curtsying-in-short-skirts.html
Princess Michael of Kent's fashion sense is described as a "force to be reckoned with", and, naturally, Royal Ascot provides the perfect place for the former interior designer to put her flamboyant style in full view.
In 2012 the Princess certainly didn't disappoint, attending Ladies Day donning a wonderful black and white outfit, accompanied with tasteful matching accessories, including a beautiful white scarf and an unmissable monochrome John Boyd hat.
Mellow in Yellow: Zara Phillips in 2015
Photo Credit: https://www.express.co.uk/news/royal/584866/Zara-Phillips-yellow-at-Royal-Ascot-Queen
In 2015, Zara Phillips sparked baby rumours by striding out at Royal Ascot in a tightly-fitted, yellow, just above the knee dress, as she playfully patted her baby bump.
The Olympian horse rider and Granddaughter of the Queen, is, of course, no stranger to horse racing events, and Zara looked calm and radiant at Royal Ascot in 2015 in her stunning dress by Paul Costelloe, complemented by yellow and grey headwear and bag.
Elegant in Red: Princess Eugenie in 2017
Photo Credit: Wireimage (The Telegraph)
The younger generation of Royals don't need much excuse to dress up to the nines, and Royal Ascot is the perfect occasion to showcase the most flamboyant items in their wardrobe to the world.
Princess Eugenie certainly achieved a showstopping look walking through Ascot in a sophisticated bright red, calf-length, mid-sleeved dress, which was tailored until the waistline, a navy clutch bag, pair of navy stilettos and a stunning blue hat adorned in red poppies.
Princess Eugenie's elegant, feminine look at the 2017 Royal Ascot was uncannily like the look her Grandmother and Great Aunt wore to Ascot in 1955.
The young Princess's flamboyant style of fashion was first propelled into the public limelight when Eugenie sported an incredibly showy hat to Prince William and Kate Middleton's wedding in 2011.
Lovely in Lace: Kate Middleton 2018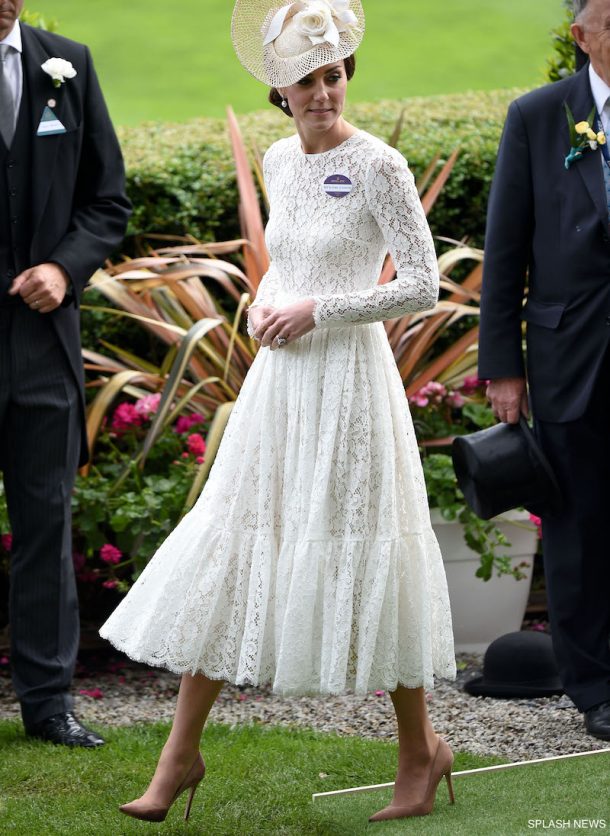 Photo Credit: Splash News
If there's one royal lady who knows how to carry off the most beautiful, eye-catching trends, it's Kate Middleton, with Royal Ascot being no exception.
In 2018, the Duchess of Cambridge looked stunning in a pretty white lace dress that was, like many of the dresses worn by members of the Royal family in bygone eras, slim-fitted until the waist where it flowed freely to the mid-calf.
Kate's vintage-style dress was complemented perfectly with an elegant straw hat with a floral feature.
We can safely say, vintage-style clothing will never go out of fashion, especially at Ascot.